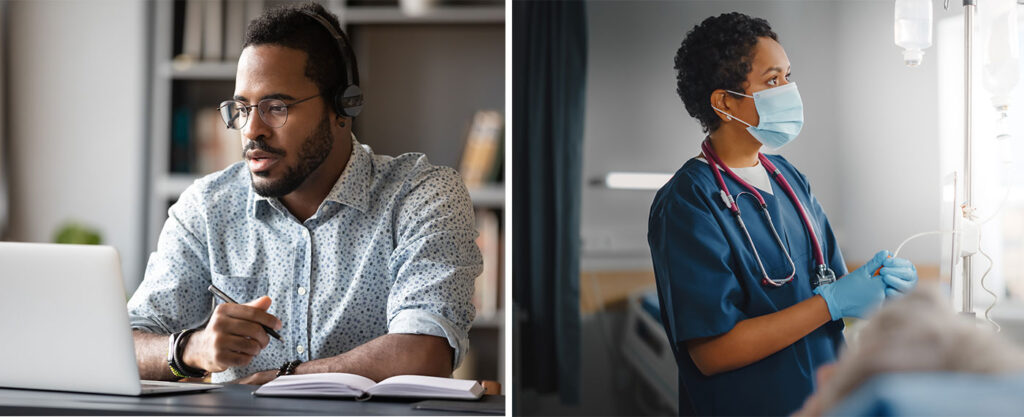 Credentials
Credentials validate specified professional and technical standards required to perform a job and earn official recognition. High-quality credential programs can lead to higher-wage careers.
Why Credentials?
Many Americans are seeking fast cycle, high quality training that leads to employment, and businesses are searching for job-ready employees. There are nearly 1 million unique credentials in the U.S. alone, offered by thousands of providers. New options appear continually, potentially helping millions of Americans find higher wage jobs over time.
Innovative companies like Amazon, Alphabet, IBM, and Microsoft are transforming workforce development with short-term, skills-based credentials offered at low or no cost to help address talent gaps and boost their own hiring. Similarly, recent high school graduates and adults alike seek a range of options – not just traditional college degrees – as they prepare for higher-wage careers.
Transparency Gap
Although both the demand for and the supply of credentials are growing, it is not clear which credentials deliver a strong return on investment for students. There is no single place an opportunity seeker can go to find comprehensive, reliably vetted information on their credentialing options. Terminology varies widely among offerings and providers, adding to the confusion for students.
Efficiently reskilling and upskilling individuals – in ways that meet employers' and economies' evolving needs for in-demand jobs – are critical to drive state economic growth. Yet the vast marketplace for these credentials is exceedingly difficult for potential students to navigate.
Credential providers, employers, policymakers, and thought leaders must come together to share and use common terms, definitions, and data in a registry.
Credential transparency ensures that essential information about credentialing is public, easily accessible, and actionable. Credential Engine is a leading non-profit focused on illuminating credential transparency. It helps consumers understand what it takes to earn specific credentials and what kinds of jobs are likely after a credential is earned In turn, policymakers, state agencies, and employers can identify areas where credential programs are needed (either by region or sector), and allocate resources accordingly to create stronger pathways to opportunity.
Top Resources
Counting U.S. Postsecondary and Secondary Credentials by Credential Engine
Making Sense of Credentials: A State Roadmap and Action Guide for Transparency by Credential Engine
Industry Recognized Credentials by The Thomas B. Fordham Institute